2024 OUTLANDER ADVENTURE
FEEL IT. LIVE IT. EXPERIENCE IT. 


Ceud Mìle Fàilte
Join our Highland Clan in the Heart of The Clan Fraser of Lovat Lands on a Time-Travel Journey through the 18th-Century rural Highlands and experience for yourself, with the eyes of the locals the unique Thistle Tours Outlander-inspired Trail, featuring all Top Filming Locations used by Starz and Outlander secret historic sites, where other travellers would not see.
No need to touch the Ancient Standing Stones of Craigh Na Dun, just come with us on a once-in-a-lifetime adventure! You will step back in time and follow the footsteps of Jamie and Claire through The Jacobite Highlands, the Land of ancient Rituals and long-ruling Clans will open up for you through the eyes of the locals.
Turas a 'Chluarain


TRAVEL SCOTLAND THE HIGHLAND STYLE WITH THISTLE TOURS

.

THE LAND OF ANCIENT RITUALS AND LONG-RULING CLANS
THE HIGHLANDS OF SCOTLAND WELCOME YOU WITH THISTLE TOURS

.
Clans and Bagpipes, Kilts and Tartans, Gaelic and Tweed, Whisky and Porridge, Heather and Thistles, all originate in the Highlands and enrich the popular picture of Scotland throughout the world, Fàilte air a 'Ghàidhealtachd.
We invite you to Thistle Tours to share with us our beautiful Highlands and Islands, to sample the amazing Highland scenery and to smell the purest air, to taste Scotland's finest Whisky and to hear the Legend of Loch Ness Monster known locally as Nessie. There is even more for you to discover with Thistle Tours as Scotland has been known to have the richest history, which is connected with such names as Bonnie Prince Charlie, Robert Burns, Mary Queen of Scots, William Wallace and Robert the Bruce, to name but a few.

Have you ever dreamed of coming to Scotland? If you have, then at Thistle Tours we can turn your Scottish dream into a Scottish Journey. Through Thistle Tours you can learn all about Scotland's history and heritage, about the Flower of Scotland – The Thistle (The Emblem of Scotland), The Highland Kilt and the full Jacobite Kilt called a féileadh-mór, The Tartan that represents each Highland Clan of a Scottish Family and many ancient Castles that are situated in and around our beautiful country.

–

.

SPIORAD NA GÀIDHEALTACHD 
SPIRIT OF THE HIGHLANDS

.
We are based right in the heart of the Highlands, as true Highlanders who will not know better than Thistle Tours about Highlands & Islands' hidden gems: lost in time, secret locations away from the crowded tourist paths, historic Castles and Clan Lands, local Folklore & Legends and more special undiscovered Highlands which other travellers would not see. 
Thistle Tours long-standing relationships with the best hoteliers and proprietors, Highland Clan Chiefs and Pipers, the castle keepers and storytellers, restaurant chefs and ferry drivers ensure that our guests are met with the warmest of welcomes and cared for with a generosity of spirit that reflects the great tradition of the Highland people.
After your travels with us, please feel free to leave your message in our Guest Book as your feedback is so important to us. At Thistle Tours we are here to help you at all times, please do not hesitate to Contact Us any time if you have any questions you need answered.
.

THE WORLD IS A BOOK AND THOSE WHO DO NOT TRAVEL READ ONLY ONE PAGE
.
.

THISTLE TOURS TRAVEL REVIEWED IN YOUR OWN WORDS

-
KEEP CALM & TRAVEL ON WITH THISTLE TOURS
WE LOOK FORWARD TO WELCOMING YOU TO THE BEAUTIFUL HIGHLANDS
.
The fire's lit & the kettle is on, the Highlands are calling! So, leave your problems behind and escape into another world! Let us show you Scotland's unique and beautiful landscape, travel in comfort with Thistle Tours and let us do the work while you enjoy an unforgettable journey into the real Highlands of Scotland. We thank you for choosing Thistle Tours and we wish you well for the remainder of your holiday in Scotland. Travel Scotland the Highland Style with Thistle Tours!

-
  THISTLE TOURS 
    TURAS A 'CHLUARAIN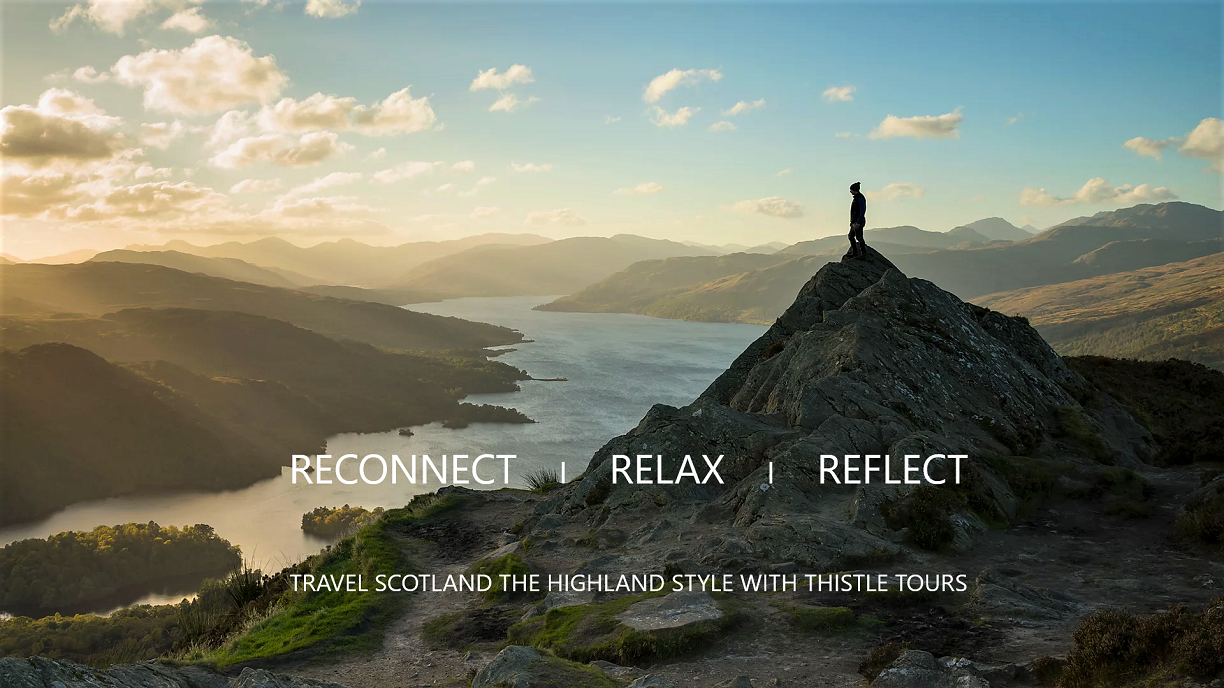 ANAIL A GHAIDHEIL, AIR A MHULLACH!
THE GAEL'S BREATHING PLACE, ON THE SUMMIT!