–

RECONNECT AND TRAVEL WITH CONFIDENCE

YOUR WORRY-FREE TRAVEL WITH THISTLE TOURS

–


Anail a Ghaidheil, air a mhullach!
We love Scotland and the Highlands, and we love welcoming travellers to these parts of the world to show you places that you wouldn't normally see.
At Thistle Tours, we have reimagined travel, and if you are ready to travel, then we are ready to welcome you again and invite you to reconnect with Highland nature, wide open spaces and fresh Highland air.
With Scottish Government guidance changed on the 26th April 2021 to allow tourism businesses in Scotland to reopen, Thistle Tours opted for a gentle, considerate and respectful route to our own opening as we are delighted to reopen our doors to bookings and give you confidence that we are running both private tours and small group travels, with all the responsible measures you would expect to see in place.
If you feel the time is right for you to travel again, then we have some important information to share about changes to Thistle Tours usual way of operating and what to expect while you travel with us. We understand that you may be a bit nervous about your trip in the current circumstances, however, we want to assure you that Thistle Tours are well-prepared and ready to give you a fantastic, rewarding and safe Highland Journey.

The Gael's Breathing Place – On The Summit!
–

We're Good to Go
Thistle Tours are pleased to announce that we have gained the 'We're Good To Go', a UK-wide and Scotland Travel Industry Standard and Consumer Mark along with the Training Certificate indicating that our business adheres to the respective Government and public health guidance and has carried out a COVID-19 risk assessment with the required processes and protocols in place. To view Thistle Tours 'We're Good To Go' Training Certificate, please follow this link – Thistle Tours We're Good To Go Certificate, to view The Certificate in Gaelic, please click here.

Thistle Tours updated operating procedures have been guided by advice from the Scottish Government in order to maintain cleanliness and aid social distancing, these are reflected in Thistle Tours COVID Safety Protocol along with Thistle Tours Guests' Safety Guide. To view Thistle Tours COVID Safety Protocol, please follow this link – Thistle Tours COVID Safety Protocol.
Please, read carefully our Safety Guide to understand the measures we have put in place to give you comfort and confidence if you do choose to travel to Scotland with us. During your trip, your Guide will ensure that everyone understands the procedures, which are generally simple-to-follow rules which you are most likely living by already.
–

—
At Thistle Tours we have been working incredibly hard behind the scenes to adapt our business and operating procedures to meet the recommended guidelines, like so many travel businesses, we have poured weeks and months of effort into ensuring your trips with us still feel like a holiday.
We have also reached out to our local contacts across Scotland and the Highlands to ensure that the local communities are happy for us to visit and explore their beautiful landscapes. They are ready to welcome you and so are we.
Those of you that have travelled with us before, know that we leave no stone unturned in the detail we dedicate to making your Thistle Tours travels magical and memorable.
We look forward to seeing you soon!

–
–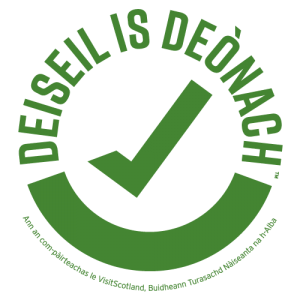 THISTLE TOURS

    TURAS A 'CHLUARAIN
–

ANAIL A GHAIDHEIL, AIR A MHULLACH!
THE GAEL'S BREATHING PLACE, ON THE SUMMIT!